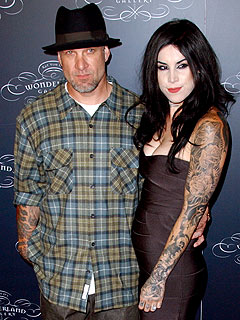 Albert L. Ortega/PictureGroup
Kat Von D may no longer have her show, but she's back with her man. Even as TLC announced the cancellation of LA Ink, Von D and Jesse James – who had called off their engagement last month – posted on Twitter separate photos of themselves locked in embraces.

James went a step further and added the caption, "para siempre" – Spanish for "forever." In an interview with PEOPLE, James made it official. The engagement is back on, and Von D is once again wearing her ring.

"Sometimes you are only given one chance in life," he says. "It was up to me to open my eyes and see it. That girl is my chance. I will never stop fighting and striving to hold on to her. Showing her how special she is, and how much I love her."